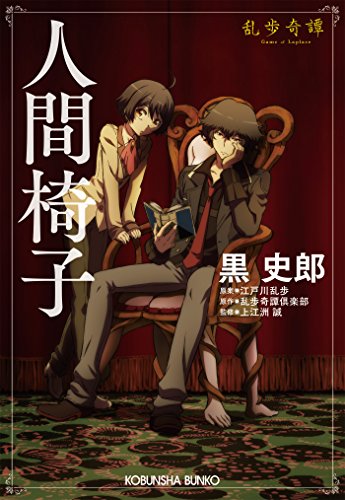 Human Chairs: A Rampoesque Tale
Ningen-isu Rampo kitan / 人間椅子 乱歩奇譚
Author
Shiro Kuro
ISBN
9784334769895
Page Count
225 pages
Size
15.4 x 10.5 cm (HxW)
First Edition
October 2015
Category
Mystery, Fiction
Publisher
Kobunsha
Human Chairs: A Rampoesque Tale
Ningen-isu Rampo kitan / 人間椅子 乱歩奇譚
Description
The body of a young teacher named Okumura is found dismembered and reassembled in the shape of a chair in a middle-school classroom. One of his students, a fair-faced 13-year-old named Kobayashi, happens to be present when the body is discovered and is marked as a suspect. The investigation is entrusted to 17-year-old Akechi, whose sleuthing skills have led to him being named a "Special Underage Detective by Appointment of the Imperial Household Agency." Since Kobayashi has been feeling bored with his humdrum existence, he actually welcomes being the focus of suspicion and shows a strong interest in helping solve the case. Akechi, too, takes an interest in Kobayashi, and challenges him to find the true culprit.
Okumura was a psychopath with a predilection for dismembering those he loves and reconstructing them as chairs to keep them near him. What, then, might have been his killer's motive for turning Okumura into a chair and framing Kobayashi with the crime? By probing the inner psychology of his suspect, Kobayashi concludes that what lies behind the crime is a powerful love for Okumura and deep-seated jealousy toward Kobayashi.
The day before his body was discovered, Okumura had summoned Kobayashi to his classroom intending to make him his next target. But a girl in Kobayashi's class, the 13-year-old Mayumi Hoshino, blocked his plan by making Okumura himself into a chair instead. In love with Okumura and knowing of his predilections, Hoshino had long been hoping to be made into a "human chair" by him—as a testament to his love for her. But then Okumura told her that she was no longer his number one, so he couldn't make her into a chair. Hoshino was driven to her crime by the fury of spurned love and a blinding jealousy for Kobayashi, to whom Okumura's affections had switched.
Having solved the immediate crime, Kobayashi further instructs that Okumura's desk chair be dismantled. Inside it are found the bones of Okumura's mother, who went missing eight years earlier. Because he loved her more than anyone else, he had embedded her bones in the chair where he spent the greatest part of his day—so she would always be close. Kobayashi has successfully met Akechi's challenge, and Akechi agrees to take on Kobayashi as his assistant. It is the birth of a new Holmes-Watson detective duo.
The work is the first volume of a planned complete novelization of Ranpo kitan: Game of Laplace (A Rampoesque Tale: Game of Laplace), a hit anime series inspired by the works of legendary mystery writer Rampo (or Ranpo) Edogawa (1894–1965), which was produced to commemorate the 50th anniversary of his death and aired in Japan from July through mid-September 2015. Rampo, as he is most often referred to, is regarded as the father of Japanese mystery fiction. He was a great admirer of Western mystery writers, and his pen name pays homage to his favorite: when spoken in the traditional Japanese order as "Edogawa Rampo," it mimics the Japanese pronunciation of "Edgar Allan Poe." The characters of Akechi and Kobayashi were originally imagined by Rampo and appeared repeatedly in his stories; Akechi in particular remains one of the most prominent sleuths in Japanese detective fiction even today.
A second volume of the novelization, Kaijin nijū mensō (Fiend with Twenty Faces), has already appeared, and a manga version of the story has been produced as well, bringing the world of Rampo to contemporary readers in new ways.
About the Author