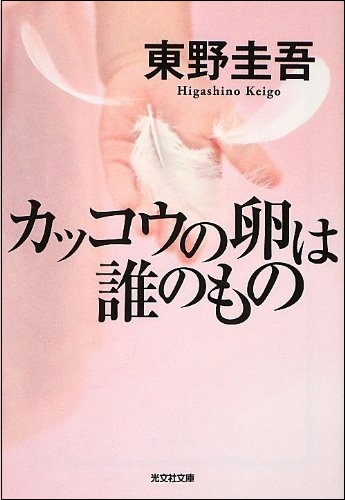 Whose Is the Cuckoo's Egg?
Kakko no tamago wa dare no mono / カッコウの卵は誰のもの?
Author
Keigo Higashino
ISBN
9784334765293
Page Count
392 pages
Size
15.4 x 10.5 cm (HxW)
First Edition
January 2010
Category
Mystery, Fiction
Publisher
Kobunsha
Whose Is the Cuckoo's Egg?
Kakko no tamago wa dare no mono / カッコウの卵は誰のもの?
Description
Hiromasa Hida was once one of Japan's premier skiers, representing the country in international competitions; his daughter Kazami is also a skier. When Kazami was two, his wife—Kazami's mother—committed suicide. Hida was on an extended tour overseas when Kazami was born, and only when he goes through his wife's effects after her death does he learn that she had had a miscarriage: Kazami is not their real daughter. In spite of his distress at this discovery, he continues to love Kazami and raise her as his own, and she develops into an even better skier than he.
Then, hoping to discover links between genetics and skill that they can put to use in their skier training program, Kazami's ski team seeks permission to study the genomes of both father and daughter. Not wishing the secret of her birth to be revealed, Hida denies the request. Then Kazami receives a threat to prevent her from appearing in a competition, and this is followed by a bus bombing that was clearly targeted at her. Critically injured in the bombing is Nobuyuki Kamijo, the president of a construction company who has come to try to meet Kazami, claiming to be a fan.
Who is behind the threat, and what is its objective? Who are Kazami's true parents? As Hida undertakes his own private investigations to answer these questions, he learns that Nobuyuki is Kazami's biological father. Her mother is Hiroe Hatanaka, Nobuyuki's mistress at the time, and a friend of Hida's wife. Nobuyuki had in fact been on his way to see Kazami to ask her to be a bone marrow donor for her half-brother Fumiya, who suffers from leukemia. Born to Nobuyuki and his legal wife, Fumiya had learned beforehand of his father's plan, and fearing that his mother would learn of his father's past indiscretion, tried to head it off by sending a threatening letter to Nobuyuki, warning him to stay away from Kazami if he doesn't want to see her dead. The ploy had failed, however, when, out of concern for Kazami's safety, Nobuyuki made his own threat to Kazami in hopes that it would trigger beefed-up security around her. Fumiya then came up with a plan B, which was to bomb the bus. The intent was to injure Kazami and disqualify her from being a donor, but it is instead his father who falls victim. After Nobuyuki draws his last breath, Fumiya confesses all and chooses to go to his death as well. In a final testament addressed to Hida, he asks him to keep the truth from Kazami and always remain her father. Hida agonizes, but ultimately decides not to reveal the truth—after all, "the cuckoo's chick bears no blame."
Written by an Edgar-nominated author, the novel has sold over 800,000 copies.
About the Author