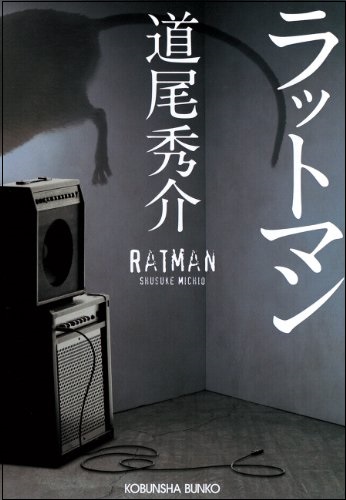 Special Notes

A partial English translation is available.
Finalist for the 21st Yamamoto Shugoro Prize (2008).
10th place, The Best Japanese Crime Fiction of the Year Award 2009.
"Among the novels of Michio that I have read so far, this is my favorite." ―Arimasa Osawa (author of the Shinjuku Shark series and former president of Mystery Writers of Japan, Inc.)
Description
Ryo Himekawa is the guitarist in an amateur band formed 14 years earlier. The day he has an argument with his lover from high school days, her corpse is discovered in the studio where their band practices. Is it an accident or murder?… In this brilliantly crafted mystery the author keeps outwitting the reader with deft manipulation of information, intentionally misleading passages and other narrative tricks.
The title of the work refers to an optical-illusion illustration used in psychology to explain "illusion caused by beliefs." When observers see the picture lined up alongside animals, they see a rat; when they see the identical picture alongside people's faces, they see a man. This is because people's ability to recognize things, far from being objective, is dependent on information given in advance and what that person believes as a result of that information. This book meticulously paints a picture of the psychology of the characters who make mistakes due to "illusions caused by beliefs," just as people do with the Rat-Man illustration.
The protagonist, 30-year-old Ryo Himekawa, is a guitarist in an amateur rock band that has now been together for 14 years. Originally, all the members were of the same age and had known each other since high school. However, two years ago, the drummer and only woman in the band, 30-year-old Hikari Onogi, had quit, and her sister, 25-year-old Kei, had joined in her place. Himekawa and Hikari had been lovers since high school. Everyone had thought they would marry someday, but Himekawa begins an infatuation with sister Kei. At this juncture Hikari finds herself pregnant despite Himekawa believing they had always taken full precautionary measures. Himekawa suspects Hikari of an affair and a bitter verbal exchange ensues. That day, in the garage of the studio the band always rehearsed in, Hikari's dead body is discovered. Was her death an accident or murder?
Intimately depicting the discord between Himekawa and Hikari just before the incident, Himekawa's questionable behavior, and how the other members direct their suspicions at Himekawa, the book manages to strengthen the reader's suspicion that Himekawa was the murderer.
However, when Kei says to Himekawa, "You've done this for me, haven't you?" that line of dialogue reveals to the reader a new "version of events": it was Kei who murdered Hikari, and Himekawa was working to conceal that fact. Twenty-three years earlier, Himekawa's nine-year-old sister had died in a fall. It was treated as an accident, but Himekawa had always harbored suspicions that his mother had murdered his sister and that his father had worked to cover up his wife's actions. Thinking "After all, I committed a crime for the woman I loved just as my father did," he decides to follow the fate of his father, who died of illness directly after his sister's death, and resolves to end his life by suicide.
Himekawa, who ends up staying alive, learns that both his and Kei's versions of events were entirely misconstrued, as according to the police detective assigned to the case, it was the father of Hikari's unborn child, the owner of the rehearsal studio, who was the actual murderer. Nonetheless, Kei had believed that Himekawa was the murderer, and Himekawa had thought Kei had murdered Hikari. The words "You've done this for me, haven't you?" had been interpreted in two completely different ways by Kei and Himekawa—just like the Rat-Man illustration.
Moreover, Himekawa then learns his sister's falling death had been an accident. In both his father's case and his own, an illusion held about a crime by the woman they loved had led to their willingness to commit a crime. Everyone had been looking at the "Rat-Man." Learning how he has lost so much because of these irreparable misunderstandings, Himekawa is dumbfounded. However, he realizes that there are also some things that survive resilient against any belief-induced illusion. One of those is his family bond, which had seemed broken by the incident 23 years ago, and the other is the unwavering friendship of his band members.
About the Author