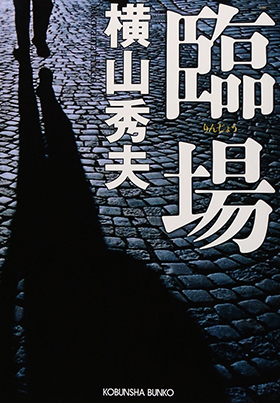 Initial Response
Rinjo / 臨場
Special Notes

A partial English translation is available.
Sold over 630,000 copies.
Made into a TV series in 2009-2010 and cinematized in 2012.
9th place, The Best Japanese Crime Fiction of the Year Award 2005.
Initial Response
Rinjo / 臨場
Description
A novel in eight short stories featuring coroner Yoshio Kuraishi as the protagonist, written by the author of 64 (Six-Four), which was nominated for the 2016 CWA International Dagger award.
At 52, Kuraishi has earned a legendary reputation as the "life-term coroner." He has a knack for picking up on evidence that other investigators overlook, and his calm and careful analysis of the scene invariably yields up the key to solving the crime. Though a heavy drinker and an inveterate playboy, he is held in high regard by his colleagues, and numerous junior officers have sought to be taken under his wing.
Among them is Kazuyuki Ichinose. He has been working under Kuraishi for two years now, and the meticulous case notes he keeps in order to enhance his skills fill some 20 notebooks. In the volume's first story, Ichinose accompanies Kuraishi to the scene of a hanging, and is astonished to discover that the victim is Yukari Aizawa, a former lover. Circumstances appear to indicate it was a suicide. In a state of shock at the death of a woman with whom he had spent many a blissful night, Ichinose is reluctant to press the investigation for fear that his illicit affair might be revealed—or worse, that he might actually fall under suspicion of foul play. Immediately sensing Ichinose's reluctance, Kuraishi examines the scene more carefully and quickly concludes that it was not suicide but murder . . .
Helped by the highly distinctive characters populating each of the stories, the collection became a bestseller, with more than 630,000 copies sold to date. In 2009 a television series based on the book also became a hit, leading to a second series in 2010. Toei released a big-screen adaptation in 2012.
About the Author