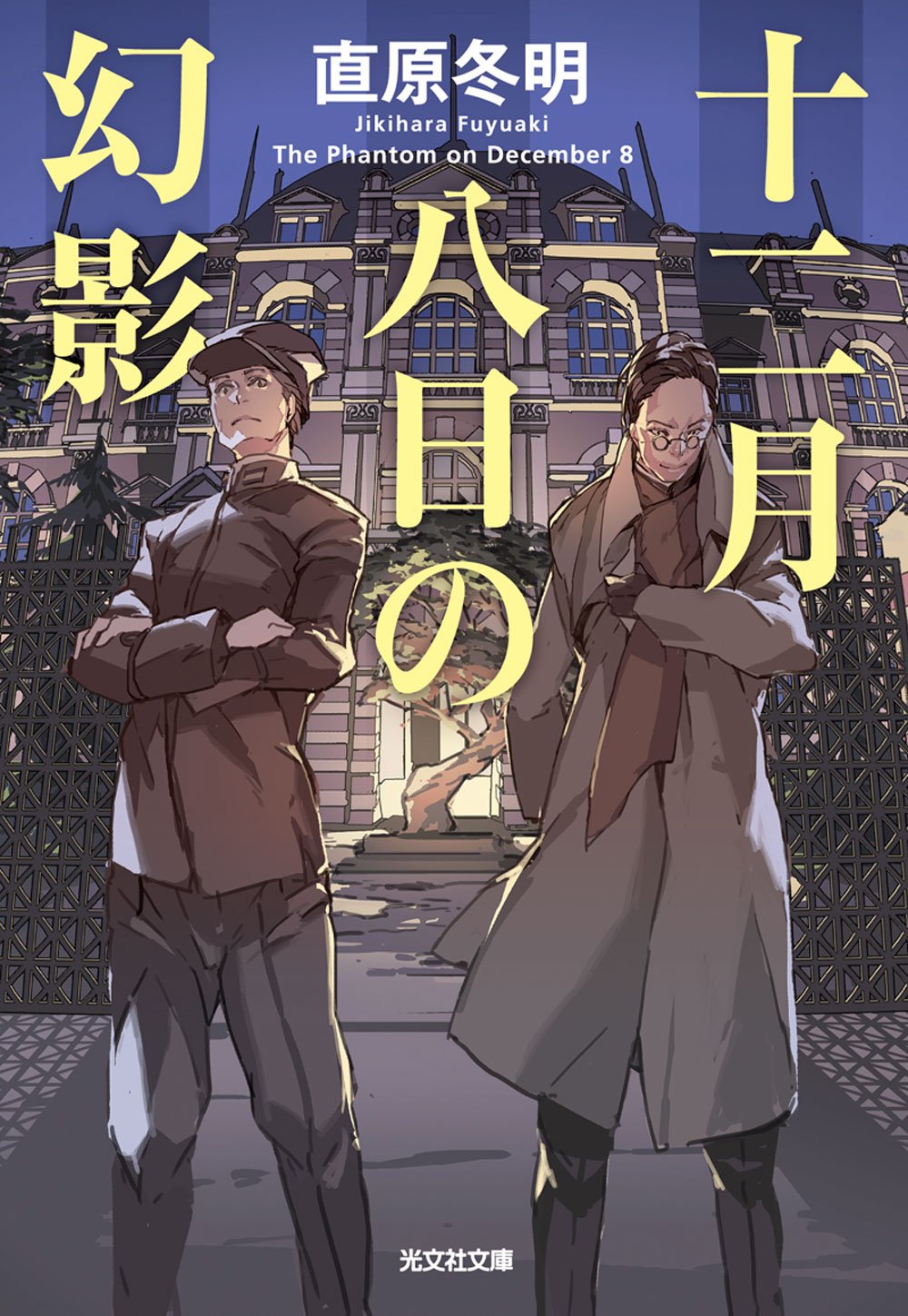 The Phantom on December 8
Junigatsu yoka no gen'ei / 十二月八日の幻影
Author
Fuyuaki Jikihara
ISBN
9784334929947
Page Count
305 pages
Size
15.4 x 10.5 cm (HxW)
First Edition
February 2015
Category
Mystery, Fiction
Publisher
Kobunsha
The Phantom on December 8
Junigatsu yoka no gen'ei / 十二月八日の幻影
Description
An intelligent and thrilling entertainment that follows the covert exploits of spies on the eve of hostilities between Japan and the United States in December 1941.
Saburō Shiota is an ensign in the Imperial Navy. When he graduated from the Naval Academy a year ago, he had hoped to be commissioned to a warship, but instead was assigned to an intelligence office attached to Naval General Staff. On duty here are just two men: Lieutenant Commander Muneyuki Tokai and himself. Tokai doesn't look like much at first glance, but he turns out to be a master of disguise and other skills essential to spies. Not only is he adept at stealing enemy secrets, he is a leading voice advocating counterespionage to prevent Japanese secrets from being stolen. His greatest concern at the moment is to keep any advance warning from reaching the United States in the event that Japan decides to open hostilities. In particular, he has his eyes on a high-ranking naval officer who is believed to be leaking information to the Americans. He tapped Shiota to be his aide because of his photographic memory. Under Tokai's wing, Shiota begins acquiring intelligence skills, and matures both as a naval officer and as a man.
The spies appearing in the story are many and varied. An Englishman named Gilbert working for the British Secret Intelligence Service has infiltrated the American Embassy in Tokyo. A German journalist named Walke stationed in Tokyo has been secretly feeding information to the Soviet Union. Gilbert has recruited a Japanese rear admiral named Shirahama, who is preparing a terrorist plot to overthrow the Japanese government. A Japanese maid at the American Embassy, Haruko Saitō, is also a spy; nicknamed "the egoist," she, too, has been providing information to the Soviets. She cozies up to Shiota and spectacularly outwits some male agents when they scoff that "Women can't spy." Further complicating the plot is the factionalism within the Japanese government—both the service rivalry between the army and the navy, and contention between those beating the drums of war with America and proponents of a more cautious approach—as well as Soviet maneuvers to draw America into a war.
As the various countries' spies work their intricately plotted stratagems of psychological warfare, Shiota is tossed about in the fray. Readers ride along with him for a thrilling, highly entertaining spin in this novel filled with both mystery and suspense.
About the Author