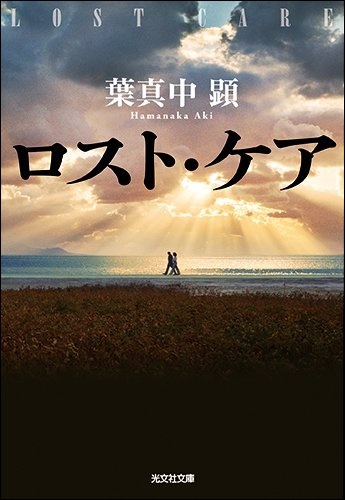 Lost Care
Rosuto kea / ロスト・ケア
Author
Aki Hamanaka
ISBN
9784334928742
Page Count
304 pages
Size
15.4 x 10.5 cm (HxW)
First Edition
February 2013
Category
Crime novel, Fiction
Publisher
Kobunsha
Special Notes

A partial English translation is available.
Sold over 110,000 copies.
Winner of the Japan Mystery Fiction Prize for New Writers, 2012.
10th place, The Best Japanese Crime Fiction of the Year Award, 2014.
5th place, Hayakawa Mystery Award (1st place for New Author), 2014.
Lost Care
Rosuto kea / ロスト・ケア
Description
Public prosecutor Hideki Otomo asks his friend Koichiro Sakuma, who works for Forest, a major eldercare chain, for help in finding a high-end facility for his aging father. Forest has been growing rapidly of late, but when a national newspaper publishes an exposé of management irregularities, it faces an unexpected crisis. In the midst of the ongoing scandal, Sakuma leaves the company, taking with him a trove of client data with which he sets up a scam operation targeting wealthy seniors. The operation becomes a success, but internal discord leads to Sakuma getting killed.
Otomo is shaken by his friend's untimely demise, but a closer look at the data Sakuma stole from his former employer shows that there have been an inordinate number of questionable deaths at one particular eldercare facility. Though steps were taken to make the deaths appear to have been of natural causes, Otomo is able to determine that a total of 43 people were in fact poisoned. Further investigation leads him to a member of the staff, Munenori Shiba, as the perpetrator. Shiba's history includes having a father in nursing care, and after his arrest, he asserts without apology that the killings were done "for the benefit of the elderly and their families," and that "this is what 'care' really means." Otomo retorts that Shiba's "thinking is twisted, there's no benefit in death," but he can't deny that Shiba's actions seriously challenge some of his long-held values . . .
In an era when the rapid aging of society has increased the demand for eldercare, this award-winning mystery novel shines a light on the not-so-rosy realities of the care industry, illuminating the tremendous stresses faced both by care seekers and caregivers.
About the Author