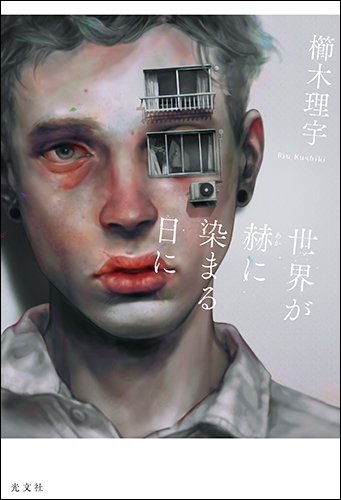 On the Day the World Turns Red
Sekai ga aka ni somaru hI ni / 世界が赫に染まる日に
Author
Riu Kushiki
ISBN
9784334910747
Page Count
326 pages
Size
15.4 x 10.5 cm (HxW)
First Edition
January 2016
Category
Literature, Fiction
Publisher
Kobunsha
On the Day the World Turns Red
Sekai ga aka ni somaru hI ni / 世界が赫に染まる日に
Description
Kai Ogata, 14, all but loses his two cousins to vicious bullying: Shota Dobashi, 13, is beaten into a coma, and his sister Suzuna, 12, is raped and left emotionally scarred. Thanks to provisions of the Juvenile Law that applies to all offenders under the age of 15, however, the brothers Kazuma and Jun'ya Hasebe who perpetrated the crimes, 14 and 13 respectively, go unpunished and remain at large to enjoy their days as they please. With vengeance burning in his heart, Kai happens to run into classmate Fumiki Takahashi, 14, at the park. The child of a mistress but raised by his father's legal wife as her own until she died, Fumiki has grown up largely neglected by his father and does not get along with his biological mother now that she has become his father's second wife and effectively his own stepmother. Believing his continued existence to be utterly meaningless, he has decided to kill himself on his 15th birthday. When he tells Kai of his plans, Kai asks if Fumiki would be willing to help him take revenge on the Hasebes, and Fumiki readily assents.
Fumiki suggests that they need some practice runs first in order to ensure the success of their vendetta and Kai agrees. They plot a series of actions against other young criminals who have escaped punishment due to the Juvenile Law: a middle-school girl who forced a younger girl into prostitution for taking her spot as a regular on an athletic team; a middle-school boy who has been bullying classmates since elementary school, driving them to attempted suicide, forcing them to burn their pet alive and then eat the meat, choking them to the verge of passing out, and displaying other aberrant behavior; and a 16-year-old boy who, in a case of mistaken identity, attacked the wrong person and left him with severe brain damage. Kai and Fumiki abduct the miscreants and, for the girl, shave all the hair on her body and leave her naked on the street; for the boys, shackle them and beat them with hammers or administer electrical shocks, escalating the relentlessness and cruelty of the punishment as their experience waxes.
Then, when only the original vendetta is left to be carried out, Kai's cousin Shota comes out of his coma. Kai wavers: Is it still "justice" for him to go through with his revenge? When he becomes aware that Kai is having second thoughts, Fumiki carries out the plan by himself. Luring Kazuma out by pretending to be a middle-school girl, he gives him a beating that leaves him with both legs paralyzed. He next attacks Jun'ya during a morning assembly at his middle school, firing a modified air gun and crossbow indiscriminately as he makes his way through the crowd before shooting Jun'ya repeatedly at point-blank range. Then after pulling the trigger with the gun pressed to his own temple, he is rushed to the hospital unconscious and in critical condition. Before heading to the school assembly, he had posted an account taking sole responsibility for the crimes, thereby enabling Kai to escape any punishment.
Fumiki had thought there was "no one in the world who wants me to exist," but eight years later he remains alive on life support paid for by his father. And today, still, juvenile criminals are being left to roam free instead of being held accountable for what they have done. In this eye-opening work, author Riu Kushiki probes both the meaning of revenge and the pros and cons of protecting juveniles from having to bear the full consequences of their actions.
About the Author