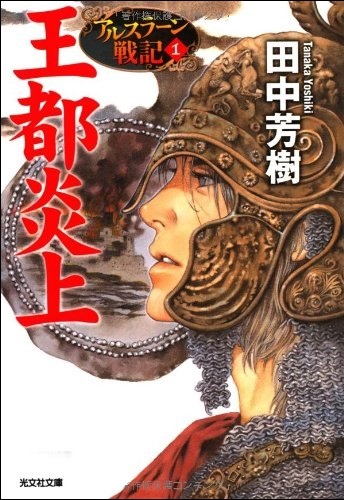 The Heroic Legend of Arslan 1: The Royal Capital Burns
Arusuran senki 1: Oto enjo / アルスラーン戦記1: 王都炎上
Special Notes

A full French translation is available.
Adapted into film (animation) twice (1991, 1992); a TV anime adaptation premiered in the spring of 2015.
A manga adaptation by Hiromu Arakawa, author of Fullmetal Alchemist, began serializing in 2013.
The Heroic Legend of Arslan 1: The Royal Capital Burns
Arusuran senki 1: Oto enjo / アルスラーン戦記1: 王都炎上
Description
Known for its abundant resources, the Kingdom of Pars has been subject to numerous attacks by surrounding states, but it has always successfully repelled them. So when the Lusitanian army invades, King Andragoras III never doubts victory will be his again. At 14, his son Arslan, the crown prince, is seeing his first battle. But the king's overconfidence, along with the betrayal of his vassal Kharlan and the enemy's cunning battle plan, lead to the previously undefeated Pars forces being decimated in a single day. The kingdom falls, and both the king and his beautiful queen, Tahamine, are taken hostage by the victors.
The young Arslan narrowly escapes with his life and, with the support of intrepid commander Daryun, master tactician Narsus, the peerless fighter Gieve and others, vows to take back his kingdom. The treasonous Kharlan leads a unit of Lusitanian forces in pursuit of Arslan, but they are outwitted by the crown prince's protectors and annihilated.
Meanwhile King Andragoras III is being tortured deep in an enemy dungeon when Kharlan's overlord, the mysterious man known as Silvermask for the metallic face-covering he wears, appears before him. He takes off his mask to reveal a visage grotesquely scarred by burns. "I am the legitimate king of Pars!" he declares, identifying himself as Hilmes, the son of Andragoras's brother, from whom Andragoras seized the throne by assassination 16 years before . . .
This is the first volume of a 16-volume historical fantasy tracing Arslan's dauntless efforts to reclaim both the kingdom and his own parents lost to an invading army. The series has enjoyed undiminished popularity over the 30 years since its first title appeared. A manga adaptation began serializing in 2013, and a TV anime adaptation premiered in the spring of 2015.
About the Author