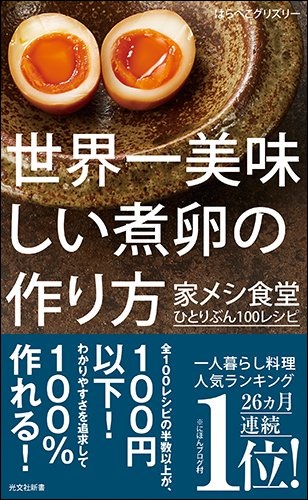 How to Make the Most Delicious Seasoned Boiled Egg: 100 Home Recipes for Solo Diners
Sekai-ichi oishii nitamago no tsukurikata / 世界一美味しい煮卵の作り方
Special Notes

Winner of the 2017 Cook Book Award.
Sold over 300,000 copies.
How to Make the Most Delicious Seasoned Boiled Egg: 100 Home Recipes for Solo Diners
Sekai-ichi oishii nitamago no tsukurikata / 世界一美味しい煮卵の作り方
Description
This is a book of recipes from "Hungry Grizzly's Cooking Blog," which held the top spot in Japanese blog rankings for 26 months straight. The blogger going by the nom de plume of Hungry Grizzly declares, "The only recipes you really need are ones that are easy, cheap, and hit the spot with great taste." The 100 recipes collected here range from the eponymous seasoned boiled egg to a variety of donburi (rice bowls), pasta and oriental noodle dishes, meat dishes, sweets, and more. All require only three to six steps to make, and most cost less than ¥100 (US$1) per serving—without stinting on flavor. Better yet, Hungry Grizzly strives to make sure that if 100 people make the dish, all 100 of them will get it perfect the first time. To aid in this, each recipe is accompanied by photos for every step, and a single-frame cartoon highlights a key preparation tip. Mealtime at home has never been so much fun or so tasty.
About the Author